For my second post I'm linking up with one of my FAVORITE things to do in my classroom from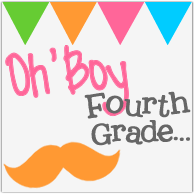 Thanks Farley for the great linky party each month!
I chose leap for my OLW because I'm planning to take some big chances and push myself this year. Ones that are going to take a leap of faith to jump into. SO to prepare myself for said pushes... I'm choosing leap as my word. Leaping takes faith and courage. Two things that are hard to have, but building them every day will allow me to be ready to leap when the time comes.